Thank you for requesting a copy of my presentation from ABA!
Thank you for attending one or more of my education sessions. I really enjoyed meeting so many of you. Thank you for introducing yourselves to me. I had several great conversations. I hope that you made it home safely and are ready to get started with your online marketing strategy.
Remember:
Any action without strategy is inaction. Know WHAT you are doing, HOW it is supposed to be done, WHO you are trying to reach, and HOW it will be measured.
Do You Want to Learn More?
Matt is currently developing online marketing courses specifically for the travel industry.
The initial courses are on Google Analytics and Digital Marketing (Development, Search Optimization, and Social Media).
If you are interested in being notified when Matt's Travel Training Library is available or want to be part of the early access test group, please complete this contact form and note "Travel Training" in the comment field.
Subscribe to Matt's Updates
Matt periodically sends out articles, book announcements, and information to help you market your company.
---
Matt's Newest Book
Wired to be Wowed: Great Marketing isn't an Accident
Paperback coming soon!
Internet Marketing: An Hour a Day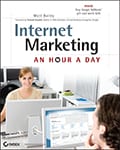 Available at Amazon
Teach New Dogs Old Tricks: How traditional sales techniques accelerate digital marketing
Coming in Fall 2016