Internet Marketing: An Hour a Day
This exciting project was the work of over 14 months of research and development for presenting a start-to-finish guide to internet marketing. The book covers the testing of your current site or the considerations to starting a new site, and the development of marketing campaigns to extend the visibility of a business.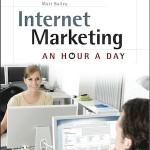 What Others are Saying…
Already the book has received great reviews from other peers and experts in the industry:
"Matt Bailey is one of my favorite speakers at industry events because he delivers insights with intelligence and wit. He brings that same approach to this book in what is quickly becoming the next must read for anyone interested in improving their business online."
Brett Crosby
Director, Product Marketing; Google

"This book should be required reading for all business owners. At a time where everyone claims to be an internet marketing expert, Matt is the real deal. He has provided a clear and concise guidebook containing all the tools and knowledge to help business owners quickly unleash the power of Internet marketing, In the sea of Internet marketing books, Matt's book rises to the top for its clarity and focus on generating ROI for business owners."
Eric Greenberg
Faculty Chair, Center for Management Development
Rutgers, The State University of New Jersey

"Matt Bailey unpacks the mystery of SEO, site design, data and much else, in step-by-step directions, and plain English for the rest of us. No one else has approached the plain-English demystification of building an effective Web presence as cost-effectively and time-effectively as has Matt. This work is built on top of something like 15 years of experience in helping global majors and backyard amateurs be the best that they can be on the Internet. And maybe 5 years of teaching US Direct Marketing Association classes, and helping hundreds of students be the best they could be for themselves or for major companies in the US and abroad. If you have a struggling site and can't figure out why it isn't performing better, or if you just got your first PC and know your new business needs a Web presence, this book will more than repay you. It will build your business."
Charles Prescott
Editor Prescott Report; Executive Director, Global Address Data Association;
Director, Direct Marketing Association.
Chair, Consultative Committee, Universal Postal Union
What You'll Find in Internet Marketing: An Hour A Day
A Holistic Approach
How Search Engines Work
Establishing Business and Website Goals
Website Evaluation Tools
Basic SEO Techniques
Keyword Research
Principles of Online Sales and Marketing
Developing Great Content
Connecting Content to Users and Search Engines
Online Persuasion Techniques
Improve Conversions
Develop Effective Architecture
Consider Accessibility
Troubleshoot Technical Roadblocks
The Little Details
Link Building
Market Effectively with Blogs
Understand Social Media
Develop a PPC Campaign
Measure the Right Things
Analyze for Action
You can order your copy of Internet Marketing: An Hour a Day at:
Thank you to all who helped to make this book possible, especially to the amazing staff at SiteLogic, who performed brilliantly throughout the months in delivering quality consulting to our clients while also developing amazing case studies and examples for use in this book!