There are many obstacles in understanding the reach of a website, and organic geo-rankings are just one more thing we need to pay attention to. Observing how your site ranks for targeted keywords in different regions can affect your marketing and optimization strategies, particularly if you are using organic rankings as a Key Performance Indicator.
As a rule of thumb, rarely use rankings as a KPI because of the many factors that go into what is displayed in the SERP of Google. If you are dissatisfied with your position in organic search results, Geo-Ranking may be a helpful tool.
Geo-rankings
Geo-rankings at their core are variations in ranking position based on the location the user searched from. You may think of geo-rankings as "Google local search" but it goes much deeper than that. Local search mainly applies to businesses that operate in a small physical location. (restaurants, plumbers, doctors etc).
When you think geo-rankings, think larger!
A very simple example of this is a search query for "NFL Football Team."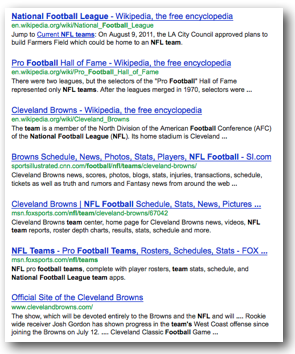 Search Location: Canton, OH
Results: 5 results on the first page for The Cleveland Browns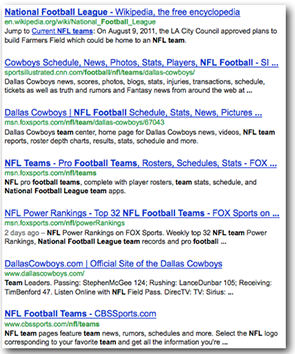 Search Location: Dallas, TX
Results: 5 results on the first page for The Dallas Cowboys
Sure we would expect to see these results in an NFL franchise, however the same principle applies to any website.
Case Study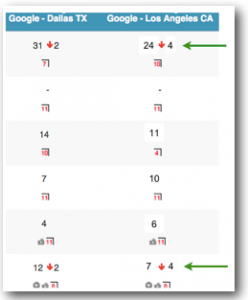 SiteLogic conducted a study on a popular website that sells auto and racing parts nationwide. This particular study consisted of tracking 75 different keywords across 7 different locations.
What we found was that while no keyword ranking remained completely stable, there was an obvious difference in rankings per location.  Some of the difference in rank actually pushed the website from page 1 to page 2.
So why is this important?  It's all about seeing opportunities. Understanding geo-rankings is a way to spot new or missed markets for your client.
Geo-ranking SEO strategies, Where to start?
Now what? There are a number of things that can be done to improve rankings within different locations.
Keyword Research: Keyword research should always be at the top of your list. Learn what people are searching for, understand how they are referring to your products or services. Depending on the area (location) of service, there may be variations in the terminology used to describe what you offer. Track the rankings!
Landing or Custom Pages: Add new keywords to content and key SEO areas on your site such as page titles. Also create new landing pages and find pages on your site that can be edited to add location based information. Use your keyword research to drive this process.
External Links: Build links to support landing page content. Find and build links from businesses or websites that have a strong local presence within the targeted area. These types of links will provide good local "link juice."  If you don't have Google profiles create a Google+ Business page and a Google+ Places profile.
Internal Links: After you've built or re-optimized a page, be sure to link to it properly from your own site. This will show Google that this page is part of your entire site architecture.
Geo-rankings is a game changer for those who use rankings as a measure of success in their SEO. On one hand, rankings drive organic traffic, and without strong rankings you will never reach your traffic and conversion goals. On the flip side, rankings should never be the ultimate goal of SEO. Good rankings should drive quality over quantity.
Use Geo-rankings to enhance your SEO efforts, find new markets and improve in what you've already done.