Part 1: Analytics: Is it Fun or Easy?
Part 2: Ambiguity is Opportunity
Part 3: Segmentation Finds Motivation
Why Segmentation?
Segmentation is the principle that people come to the website for many different reasons, they enter at many different points, the see different pages, and are looking for many different pieces of information.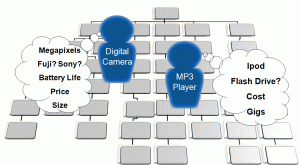 Basically – you can't treat all of your visitors the same way, neither in the marketing and content nor in the measurement and analysis. As John Marshall of Market Motive (who also developed ClickTracks) famously said, "people are not cattle." Therefore, we should not treat them as such.
Aggregate = Inaccurate
Funny enough, when we build reports on aggregate data (page views, visitors, top 10 pages, top 10 search terms) we are doing exactly that. Aggregate numbers view people as a herd of cattle, all with the same motives, behaviors and views. Segmentation allows a deeper examination of the website and the different types of people and their motivations.
Analytics finds Behavior based on Expectation
By simply segmenting visitors based on their keyword searches, motivation can be determined. By segmenting those same visitors based on goal completion and the entry point of the site, you can begin to compare behavior alongside the motivation. Comparisons allow new ways to interpret the data, and find areas of the website that need immediate improvement. Not all products can be sold the same, so why measure them the same?
Context, Context, Context
Building context is a primary step in developing new ways of viewing data. The more we know about a group of visitors, the more we can understand them. By viewing people as the complex organisms that they are, we can begin to develop the site around them and make changes suited to best market to that segment. This isn't a difficult step; it's actually very simple by using the 3C's of Analytics: Context, Contrast & Comparison.
Context is simply building multiple data points into a specific view of activity. Essentially, the more data points involved, the better the story becomes. Adding content to a segment tells a particular story about a specific group of people and what they encountered on your website.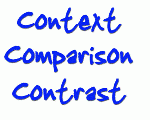 Start building context by segmenting visitors based on the acquisition method and their motivation. Contrast that with the average, which Google Analytics does by default, in order to see how this segment performs compared to the site average. Then, compare to other segments in order to find significant differences. Comparison allows the analyst to find specific segments that are performing at extremely high or low levels. This is the first method of a direct evaluation for the website.
Test poorly performing segments, and grow the higher segments. Compare segments and keyword rankings to be sure that you are targeting the right words. Get a clear picture on exit rates by finding the segment that is contributing the most. Comparing and contrasting segments is the basis of learning, and it is the easiest method to find opportunities for growth in your marketing. You may find that your best ranking keywords, the ones bringing in the most traffic, are also the worst performing group. Only segmenting and building context will allow that exploration.
More Data Points = More Understanding
The simple conclusion to this type of analysis is that there must be multiple conversion goals. One conversion rate doesn't tell the story of who came to the website, what they expected to see, what they did see, and how they reacted to it. Multiple conversion rates; based on keywords, actions, product types, price points, keyword rankings, navigation methods are just a few of the ways that one can build conversion segments.
Action-based conversions, such as video views, navigation tendencies, point to the behavior of people within a segment and can provide insight as to how people respond when they interact with elements within the website. Understanding the actions and how they affect conversions will provide direction for continued development of interactions within the website.
Part 4: Compared to What?
Related Articles:
Segmentation: Analytics According to Captain Kirk
Social Media Under the Microscope
Multi-Channel Marketing and Self-Fulfilling Prophesy