About Matt Bailey
Matt brings marketing know-how along with extensive B2B and B2C Sales experience. His training merges sales and marketing goals to produce a more dynamic, efficient and accountable strategy.
He has a passion to produce confident and profitable marketers, who in turn, create profitable companies.
Since 1998, Matt has presented at thousands of companies, conferences and workshops. He is one of the highest-rated presenters world-wide for his ability to communicate complex information in a practical humorous way.
He has authored:
Internet Marketing an Hour a Day (Wiley/Sybex) 2011
Wired to be Wowed, 2014
Teach New Dogs Old Tricks, 2017
Background
Matt was an early internet entrepreneur, creating an online real estate business in 1997. He sold that business and then moved into the world of enterprise software sales, with international accounts.
In 2002, he went back to his roots to work with web development agencies that were developing marketing departments to respond to the need for SEO. Eventually, he started his own marketing company, SiteLogic in 2006. During this time, requests for his training increased, as he traveled around the world for training and conference engagements.
In 2015, Matt sold his agency business and changed SiteLogic to a training and education company. Since that time, he has logged almost 1 million miles training companies around the world. When he is not training, Matt resides in a quite rural area of Ohio with his wife of 20+ years and four daughters. He is a beekeeper and enjoys reading with a good cup of coffee.
"I'd also like to thank you for a fabulous learning experience. 
You are an evangelist, a philosopher and a jester. Your passion for and delight in educating folks was inspiring. One of the key take-aways is the ability to ask the right questions."
C. Mabry – American College of Cardiology
Who is Matt Bailey?
A Trainer
Matt provides clarity, logic and inspiration to the world's largest brands. By developing a holistic presentation for all partners in the marketing process, Matt brings together each specialty to show how all disciplines are interrelated for online marketing success.
IT and Marketing expertise
Having history in both gives Matt a strong understanding and appreciation for the roles and disputes that happen between these two departments. Matt speaks the language of the C-Suite, understands the legal concerns and brings together additional departments that all have to do with the customer acquisition and retention process.
Educator at heart
Matt prefers to use your own data, website and campaigns as the training materials for his sessions. In this way, companies are not just learning ideals and platitudes, but learning with their own data, and seeing immediate opportunities for improvement as a result.
Single Day or Two-day Training Programs
The second day can be all training or a mix of training and consulting as needed. Typically, most companies use the second day as breakout sessions for each department, which enables more specialized training.
"As a speaker Matt takes top-billing. He speaks the language of SEO and Conversion optimization and Web Analytics. His presentation is by far the most interesting and useful at the two Conferences at which I saw his presentations."
Erik Holliday – Intertek
Listen to Matt's Podcasts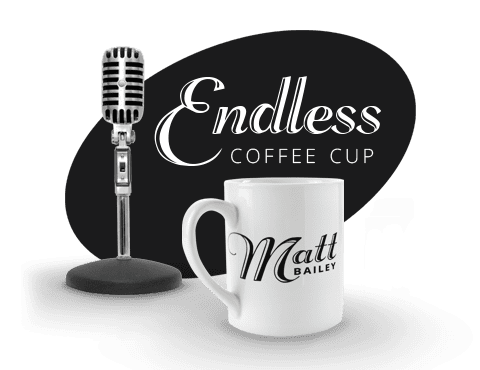 Matt Bailey
Yesterday's Social Media News What's Happening to Social Media? Dive deep into the latest developments in the ever-evolving world of social media. Joined by regular guest Greg Jarboe, we [...]
Matt Bailey
Unlocking Transformation: Communication Skills for Personal and Professional Growth Monique Russell, the dynamic force behind Clear Communications Coach, joins me to talk about the importance of communications skills in modern marketers. [...]